Ticket go on Sale November 23rd
Purchase Tickets for Spring 2014
Purchase all 4 Concerts to receive 15% discount
Purchase single Concert Tickets
Saturday February 1,  2014 Concert featuring
Wilderness Of Manitoba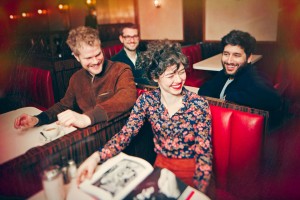 This Toronto Based band has been receiving many accolades in the Canadian Folk Music scene based on the strength of their new album – Island of Echoes. This year, they were nominated for two Canadian Folk Music Awards. Pushing the Boundaries Award and Vocal Group of the Year.
The Wilderness of Manitoba currently performs with the talents of Will Whitwham, Amanda Balsys, Wes McClintock, and Sean Lancaric. In 2010, the group formed organically out of late-night sessions at Toronto's Delaware House. Whilst employing an arsenal of instruments that includes banjo, cello, mandolin, and guitar, it's The Wilderness of Manitoba's rich, complex harmonies that serve as their sonic anchor. Part Fleet Foxes and part Great Lakes Swimmers with a tiny bit of Cloud Cult-inspired unpredictability tossed in for good measure.
Their debut in Bragg Creek is our chance to savour the current incarnation of Wilderness of Manitoba. Expect the unexpected.
Wilderness of Manitoba, Redwood House, 1st February 2014
Preview on YouTube (opens in a new window)


Adults $29 – Seniors $27 – Youth (6-17) $5 Rush
---
Saturday March 8, 2014 Concert featuring Old Man Luedecke
Elbow River Band supporting
Concert start time 7.45pm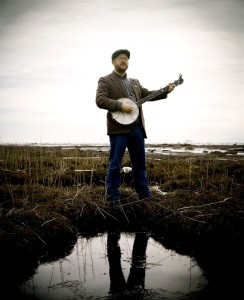 Old Man Luedecke has turned a few heads in the Roots music world with his latest album, Tender Is The Night. Recorded live in Nashville with producer Tim O'Brien, Luedecke surrounded himself with the top players in folk and bluegrass music. Driving a Nashville band with his unique voice, this is an artist honing his cunning lyrical flair – tenderly pushing the boundaries of his storytelling with his unique mix of folk, bluegrass and pop hooks.
"I have always liked and modeled myself on the ruffian qualities, I was attracted to the purity, misguided notions, and honesty," says Luedecke. "I love Tim O'Brien's playing. I listen to his records all the time. He's top of the heap, in my mind, when it comes to traditional music, specifically American music
Read More
Old Man Luedecke, Bragg Creek Community Center, 8th March 2013
Preview on YouTube (opens in a new window)


Adults $29 – Seniors $27 – Youth (6-17) $5 Rush
---
Saturday April 5, 2014 Concert featuring David Gogo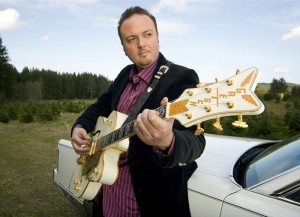 If Blues moves you, don't miss this concert! David Gogo comes to Bragg Creek in mid-winter to heat up the Hamlet. As one of Canada's hardest working and most prolific blues guitar virtuosos, David has a worldwide fan base. He has earned four JUNO nominations, the 2012 Western Canadian Music Award for Blues Recording of the Year, the CBC Saturday Night Blues' Great Canadian Blues Award for a lifetime contribution to the blues in Canada, and has twice been named Maple Blues Guitarist of the Year. He has played on stage with Johnny Winter, Otis Rush, Albert Collins and Bo Diddley and has opened for George Thorogood, ZZ Top, The Tragicially Hip, Buddy Guy, Little Feat and Jimmy Vaughan.
Gogo hails from Nanaimo, British Columbia and has been playing guitar since the age of five. When he was 15, he met Stevie Ray Vaughan backstage at the Royal Theatre in Victoria, British Columbia and was encouraged by the blues legend to pursue a career in blues.
Read More
David Gogo, Bragg Creek Community Center, 5th April 2014
Preview on YouTube (opens in a new window)


Tickets Adults $29 – Seniors $27 – Youth (6-17) $5 Rush
---
Saturday May 3, 2014 Concert featuring
Michael Kaeshammer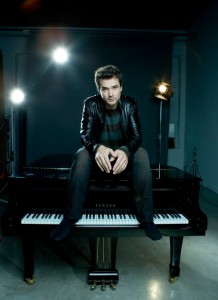 Michael Kaeshammer's performances are an invitation to join the party. He doesn't play at you. He plays with you. At his shows, you're all in it together – not only part of the story, but virtually part of the band. When Michael steps on stage he'll greet you warmly, as an honoured guest. He'll play a song like 'Rendezvous'. A comfortable start, to showcase his fiery piano chops and make you feel at home – The equivalent of taking your coat and hat and showing you around the place.
As you settle in and he'll introduce you around – First to his longtime rhythm section, drummer Mark McLean then bassist Marc Rogers, who'll rip it up with him on a tune dictated as much by his mood as by what direction he believes you and his other guests would like the party to head in. Getting there is more than half the fun.
As Michael says, "For me the performance is as much about the energy coming off the stage as the energy coming from the audience. It's about being myself, writing from the heart and showing my love for life. That's what I want to convey. After the show, people ask me, 'do you really have that much fun?' And I say 'you don't know the half of it. It's even more exhilarating than it looks'."
Read More
Opening the show will be Jenie Thai  http://www.jeniethai.ca/music-videos
Please note concert start time 7.45pm


Tickets; Adults $40. Seniors $38. Youth (6-17) $30
Michael Kaeshammer, Bragg Creek Community Centre. 3rd May 2014
Preview on YouTube (opens in a new window)
---
Spring Season Ticket package available until February 1st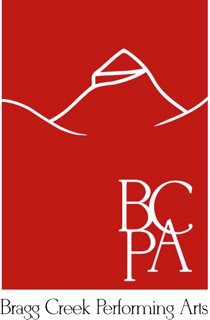 Many people tell us that we bring in some good bands. This new season is no exception as we continue in that tradition, so it is with great excitement and anticipation that we announce our Spring line-up!
We first saw Wilderness of Manitoba at the Black Sheep Inn in Wakefield, Quebec. That was about four years ago! Since then they have polished and honed their performance to bring you a superb evening of original yet groundbreaking modern folk music. Juno winner and storyteller Old Man Luedecke (no, he's not old) will delight you with his unique percussive, charismatic performance featuring voice and banjo. Then we delve into the blues with a touch of rock n' roll, soulful vocals, and blistering guitar licks under the guidance of David Gogo. We round out the season with internationally renowned boogie-woogie, jazz, pop pianist Michael Kaeshammer who returns for a second appearance after twelve and a half years. Come and revel in his virtuoso playing and lyrical vocals.
Once again we are offering a 15% loyalty discount on the purchase of all four concerts. "Buy Tickets for this Season's Package". If you prefer to purchase by phone, please call Dawn at 403 949 4114. Pay using the credit card of your choice and arrange to pick up your ticket package at the first concert. These four memorable evenings will cost you as little as $107.95 for an adult or $101.15 for a senior. As an added bonus, the purchase of a season package also enables the subscriber to transfer unused tickets to another performance without incurring any extra processing charges. To transfer from a lower priced concert to a higher priced concert the difference in ticket price must be paid.
We hope that you will join us for Bragg Creek Performing Arts exciting 33rd Season, the Spring Series. Thank you for supporting live, original music.