Fall Season 2016

The Wardens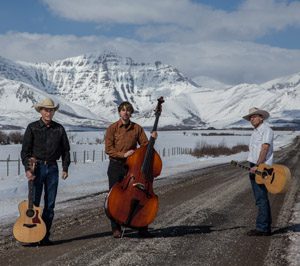 The Wardens are men of the mountains and their songs lovingly tell the tales of their lives in the Canadian Rockies.
Two retired park wardens and a current employee of Banff National Park, the trio brings its country charm to Redwood House on Oct. 15 to open the new season for Bragg Creek Performing Arts.
The Wardens are Bradley Bischoff on lead vocals and lead and rhythm guitar, Scott Ward playing fingerstyle guitar and also providing lead vocals and Ray Schmidt on the upright bass and harmony vocals.
Schmidt and Scott founded The Wardens in 2009 during the national park warden centennial and they've been packing venues in Alberta ever since.
Their songs entertain with authentic stories of their experiences roaming and working in Canada's national parks, where Bischoff and Ward both were employed for decades as avalanche forecaster and search and rescue dog handler (Ward) and horseback patroller in the remote South Boundary region of Jasper National Park (Bischoff). Schmidt remains employed by the Banff National Park as a new media specialist.
"The Wardens…made the audience feel like they were sitting around a campfire in a Rocky Mountain campground," offered reviewer Mike Redfern of the Kimberley Daily Bulletin.
Since forming the Wardens have released two albums of original tunes, the six-song self-titled EP The Wardens in 2013 and full length Bear 66 in 2014.
For more information on the group visit http://www.banffwardens.com/ or go to their Facebook page, where The Wardens revealed in July plans for a third album, scheduled to be recorded this fall.
Saturday October 15th 2016
The Wardens
Redwood House.
Doors 7pm Concert 8pm
Tickets;
Adult $34.25
Senior $32.25
Youth $5 rush at the door only

Tom Allen and Friends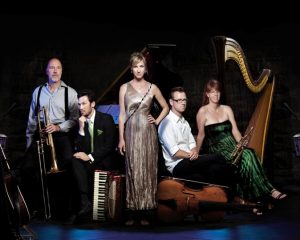 Tom Allen is the host of Shift on CBC Radio 2 who loves music, stories and especially loves combining the two to bring concerts and broadcasts alive. He's a great communicator with a casual yet sophisticated style that connects effortlessly with audiences. He brings tremendous insight, emotion, and inspiration to his listeners — and they adore him.
Tom has written a series of shows that mix storytelling, chamber music and original popular songs to bring classical music and the stories behind it to life in an inspiring and accessible format. These "chamber musicals" feature a brilliant and diverse cast and have been presented to great acclaim across Canada.
In Bragg Creek, he will present – "From Weimar to Vaudeville", the story of two men, both sons of musical royalty. As America emerges from the Great Depression and Germany descends into darkness and chaos, two musical princes – one rich, one poor – reach out to each other across hardship and time as the world tilts again toward war.
Tom Allen's vivid imagining of the 20s and 30s features music by Richard Strauss, Charlie Chaplin, Kurt Weill, Fletcher Henderson, Mozart, Brahms, and stunning original songs by the cast. If you think of Tom as just a brilliant on-air guy, think again!
The cast for this production is diverse:
Tom Allen: narration, trombone, voice




Kevin Fox: voice, cello, guitar




Lori Gemmell: harp, trumpet, piano, voice




Bryce Kulak: piano, voice, accordion




Patricia O'Callaghan: voice, piano, percussion
Peter Gemmell: woodwinds
Here are their bios:
Tom Allen hosts Shift on CBC Radio 2 and concerts across Canada. He is the author of three non-fiction books, plays the trombone when he can and wrote this show, among many others. Mostly, he's a storyteller.   www.tomtomallen.com
Patricia O'Callaghan is a recording and performing artist with 5 solo CDs and several collaborations. She tours both her own shows, and as a cast member or guest artist, around North America, Europe, and Australia. Patricia last performed in Bragg Creek in April 2008.    www.patricia-ocallaghan.com
Bryce Kulak is an actor, singer, pianist and composer who has been performing professionally across Canada since he was 11. His albums Welcome, Tin Can Telephone, and The Man That Got Away are available on iTunes.www.brycekulak.com
Kevin Fox is a composer, arranger, recording artist and performer with 3 solo recordings and countless credits as a supporting artist. He studied at McGill, toured with Sarah Harmer, arranges for Justin Bieber and plays with everyone. www.kevinfox.ca
Lori Gemmell is the Principal Harpist with the Kitchener-Waterloo Symphony and plays often with the Toronto Symphony Orchestra. She has 2 recordings of solo harp music, 2 duo recordings and also recorded with Feist. www.lorigemmell.com
Peter Gemmell is a brilliantly diverse woodwind artist who plays saxophones, clarinet, bass clarinet, flute, piccolo and recorder with equal passion. He has lived and played everywhere.
Tom Allan and Friends
A cabaret style "chamber musical" Featuring Tom Allen, Patricia O'Callaghan, Kevin Fox, Lori Gemmell, Bryce Kulak and Peter Gemmell in "From Weimar to Vaudeville"
Saturday November 12th 2016
Bragg Creek Community Centre
Doors 7pm Concert 8pm
Tickets;
Adult $34.25
Senior $32.25
Youth $5 rush at the door only

---