Fall Season 2016
TICKET WILL BE ON SALE SOON. PLEASE CHECK BACK
Blackie And The Rodeo Kings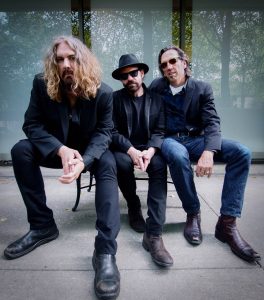 Stephen Fearing, Colin Linden and Tom Wilson were already seasoned veterans of the Canadian music scene when they first forged their collaboration Blackie and the Rodeo Kings 20 years ago. The group was initially assembled as a one-off side project to record High or Hurtin': The Songs of Willie P. Bennett, a tribute album to Canadian folk artist Bennett, whose song Blackie and the Rodeo King inspired the combo's name.   
Meanwhile, the three songwriters have all maintained their individual careers outside of Blackie. Fearing is a widely respected solo artist, and is half of the duo Fearing and White with noted Irish/Australian artist Andy White. Wilson has worked solo, as well as leading the bands Junkhouse and Lee Harvey Osmond. Linden, who relocated to Nashville, has released several solo albums and currently plays guitar in Bob Dylan's touring band. As guitarist, songwriter and/or producer, he's also worked with the likes of The Band, Ray Bonneville, T-Bone Burnett, Bruce Cockburn, Amos Garrett, Emmylou Harris, Colin James, Keb Mo', Diana Krall, Leon Redbone, Chris Thomas King and Lucinda Williams.
All three have vibrant solo careers and have spent time in other groups and partnerships, but they've come to discover over the years that nothing really works better musically than when they're together as Blackie and The Rodeo Kings.
Their 20 year body of work is impressive.  In their 2011 album Kings and Queens the band teamed up with noted female singers such as Emmylou Harris, Amy Helm, Pam Tillis, Lucinda Williams, Rosanne Cash, Cassandra Wilson, Serena Ryder and Patti Scialfa. Each of the 14 tracks featured a duet with one of the singers
Rosanne Cash, for example, was brought to tears when she heard Wilson's stirring version of Folsom Prison Blues at the Edmonton Folk Festival in 2006. They were nice tears, too. She liked the Blackie version of her father's song so much she brought more members of the Cash family to see them perform at a later tour stop in Portland, Oregon…and then agreed to sing on their recording.
Their latest album South began to take shape while the group was touring the Canadian festival circuit. On several occasions, inclement weather caused Fearing, Linden and Wilson to retreat to shelter, where they would stage loose acoustic sets. These impromptu performances soon began to take on a sound and groove of their own.  The experience of stripping down their sound had such a rejuvenating effect on the three co-front men that they decided to capture that vibe on record. But when they brought the material to Linden's Nashville studio, they found their originals to be more exciting than the covers they had planned, and before long they'd accumulated an album's worth of new original tunes. The trio is currently working on a new album Kings and Kings due for release shortly.
An interesting side note – Tom Wilson's, under his "acid folk" moniker of LeE HaRVEY OsMOND, stopped in Bragg Creek in 2015 as part of his North America tour. Let's welcome him back with his good friends!
Blackie And The Rodeo Kings
An evening with Stephen Fearing, Tom Wilson and Colin Linden.
Saturday, October 1st 2016
---
Tom Allan and Friends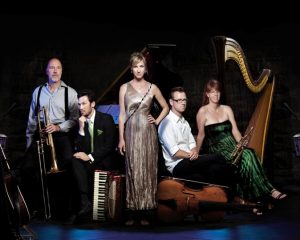 Tom Allen is the host of Shift on CBC Radio 2 who loves music, stories and especially loves combining the two to bring concerts and broadcasts alive. He's a great communicator with a casual yet sophisticated style that connects effortlessly with audiences. He brings tremendous insight, emotion, and inspiration to his listeners — and they adore him.
Tom has written a series of shows that mix storytelling, chamber music and original popular songs to bring classical music and the stories behind it to life in an inspiring and accessible format. These "chamber musicals" feature a brilliant and diverse cast and have been presented to great acclaim across Canada.
In Bragg Creek, he will present – "From Weimar to Vaudeville", the story of two men, both sons of musical royalty. As America emerges from the Great Depression and Germany descends into darkness and chaos, two musical princes – one rich, one poor – reach out to each other across hardship and time as the world tilts again toward war.
Tom Allen's vivid imagining of the 20s and 30s features music by Richard Strauss, Charlie Chaplin, Kurt Weill, Fletcher Henderson, Mozart, Brahms, and stunning original songs by the cast. If you think of Tom as just a brilliant on-air guy, think again!
The cast for this production is diverse:
Tom Allen: narration, trombone, voice




Kevin Fox: voice, cello, guitar




Lori Gemmell: harp, trumpet, piano, voice




Bryce Kulak: piano, voice, accordion




Patricia O'Callaghan: voice, piano, percussion
Peter Gemmell: woodwinds
Here are their bios:
Tom Allen hosts Shift on CBC Radio 2 and concerts across Canada. He is the author of three non-fiction books, plays the trombone when he can and wrote this show, among many others. Mostly, he's a storyteller.   www.tomtomallen.com
Patricia O'Callaghan is a recording and performing artist with 5 solo CDs and several collaborations. She tours both her own shows, and as a cast member or guest artist, around North America, Europe, and Australia. Patricia last performed in Bragg Creek in April 2008.    www.patricia-ocallaghan.com
Bryce Kulak is an actor, singer, pianist and composer who has been performing professionally across Canada since he was 11. His albums Welcome, Tin Can Telephone, and The Man That Got Away are available on iTunes.www.brycekulak.com
Kevin Fox is a composer, arranger, recording artist and performer with 3 solo recordings and countless credits as a supporting artist. He studied at McGill, toured with Sarah Harmer, arranges for Justin Bieber and plays with everyone. www.kevinfox.ca
Lori Gemmell is the Principal Harpist with the Kitchener-Waterloo Symphony and plays often with the Toronto Symphony Orchestra. She has 2 recordings of solo harp music, 2 duo recordings and also recorded with Feist. www.lorigemmell.com
Peter Gemmell is a brilliantly diverse woodwind artist who plays saxophones, clarinet, bass clarinet, flute, piccolo and recorder with equal passion. He has lived and played everywhere.
Tom Allan and Friends
A cabaret style "chamber musical" Featuring Tom Allen, Patricia O'Callaghan, Kevin Fox, Lori Gemmell, Bryce Kulak and Peter Gemmell in "From Weimar to Vaudeville"
Saturday, November 12th 2016
---