Spring Season 2017

Elliott Brood
Saturday January 21st 2017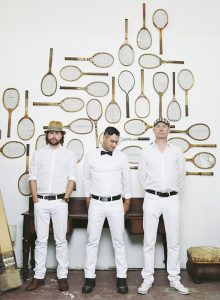 Formed in 2002, Elliott Brood united teenage pals Mark Sasso, Casey Laforet and Stephen Pitkin over their grown-up love for Neil Young, The Band and the Flying Burrito Brothers. Their 2004 album Tin Type was a college radio hit and soon this compact trio was making some big noise. Across five subsequent albums, sharing vocals and trading instruments (each of the band-members seems to play everything) Elliott Brood have become one of the premier acts in Canadian roots music. Those who saw them at 2014 Calgary Folk Festival will remember the huge crowd dancing at the Midnight Stage!
To record their latest album Work and Love they deserted their families and holed up in the Tragically Hip's Bathhouse Studio, scarcely emerging – waking and playing and playing and playing, one song a day. The magic usually happened sometime after midnight, when they were "just tired enough".
Their songs are loud and quiet but mostly loud, and always reaching toward something. First loves, lost loves, and young men's just desserts. Elliott Brood delivers otherworldly tones thanks to banjo and guitar-led rural stomps and Sasso's heart-stopping rasp.
Find out more about Elliot Brood at http://www.elliottbrood.com/ https://www.youtube.com/watch?v=gpXEi8ALR8Q
Northern Beauties opening for Elliott Brood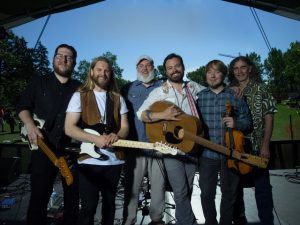 Calgary's Northern Beauties have carved their name into the Western Canadian musical landscape with an unmistakable brand of Western Folk that has a dedication to strong material. It's been a banner year for this troupe as they establish themselves as one of Canada's most exciting emerging bands. In addition to appearances at a number of prestigious festivals in Western Canada, the band was honoured with a 2016 Western Canadian Music Award nomination for Roots Group/Duo of the Year, and a pair of Calgary Music award nominations for Singer/Songwriter of the year and Roots/Folk recording of the year. They are an unforgettable live act so don't miss them as they open the evening's performance.
http://www.wearenorthernbeauties.com/home41
http://northernbeauties.bandcamp.com
Saturday January 21st 2017
Elliott Brood & Northern Beauties
Bragg Creek Community Centre
23 White Ave,
Bragg Creek. AB
Doors 7pm Concert 7:45pm
Tickets; Adults $30.25 Seniors $28.25

---
The Bills
Saturday April 1st 2017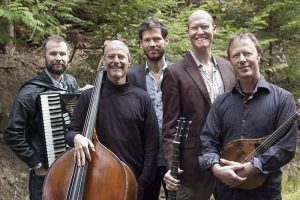 The Bills are one of Canada's finest roots ensembles with the outstanding musicianship of Marc Atkinson on mandolin, Richard Moody on violin, Scott White on Bass, Adrian Dolan on everything and the superb songwriting and lead singing of Chris Frye.
On stage they have an unpretentious good-time energy that will fill the hall in Bragg Creek. Because of their training and the twenty years they have shared on tour bus and stage, they communicate telepathically, melding their sounds into feel-good three-minute musical works. A Bills' song might start out a cappella then lure piano, mandolin, accordion, upright bass and guitar into its lair.
The Bills' brand new album, Trail of Tales features 14 new original tracks. For the first time in their storied career, the album sees all five members of the band contributing compositional talents in a truly collaborative offering. With two previous JUNO nominations and multiple Western Canadian Music Awards under their belts, expect the musical magic you've come to love from this extraordinary quintet.
Find out more about the Bills at http://thebills.ca/ or watch them at http://thebills.ca/video/
Saturday April 1st 2017
Bragg Creek Community Centre
23 White Ave,
Bragg Creek. AB
Doors 7pm Concert 8pm
Tickets; Adults $30.25 Seniors $28.25

---
An Evening with Basia Bulat
Saturday May 13th 2017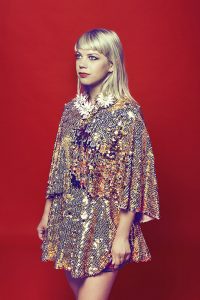 Since the age of three, Basia has been sitting on piano stools and trying to hammer things out. It started with her piano-teacher mum, but along the way Basia's picked up guitar, Autoharp, banjo, ukulele, sax and flute. Her singles are play listed on CBC Radio 2 &3 while various tracks have received airplay on college radio. With four albums to her name she has been nominated for the Polaris Prize 3 times in 2008, 2015 & 2016.
Bulat has toured across Canada, the U.S., Europe, and Australia. After playing the Dawson City Music Festival in the Yukon, Bulat cited that quiet and remote location as an inspiration for her songwriting.
With each album, Basia seems to know her voice better, both as a writer and a singer. Her latest release Good Advice marks another evolution for the musician, who is known for playing the Autoharp. Recently, she explores more electronic instrumentation, trading her signature instrument for more keyboards and synthesizers.
Basia has an immediate connection to us, the audience that is conversational and personal. Come enjoy an intimate evening with a wonderful performer.
See Basia's performance at Massey Hall at http://basiabulat.com/videos/
Saturday May 13th 2017
Bragg Creek Community Centre
23 White Ave,
Bragg Creek. AB
Doors 7pm Concert 8pm
Tickets; $34.25 Seniors $32.25

---