Fall Season tickets go on Sale May 3rd
Buy all 3 concerts by 27th September 2014 & save 15%
Adult Season minus 15% discount = $84.00
Senior Season minus 15% discount = $78.20
Oscar Lopez
Saturday 27th September 2014
Bragg Creek Community Centre
Doors 7pm Concert 8pm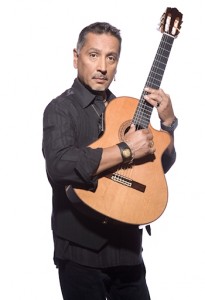 Oscar Lopez's Latin guitar groove has made him a stand-out on the world music scene.
Never afraid to venture into different genres, Lopez easily incorporates jazz, blues, and even pop sensibilities into his music. But one thing remains constant: letting the passion and fire within his soul loose through his fingertips and onto the guitar strings. Lopez has earned two Juno awards and multiple nominations.
Lopez captures the sound and feel of his live performances with an intimate, acoustic set on his latest album, MY DESTINY (Mi Destino). Lopez's live performance is a very personal interaction between him and the audience. "My music is an extension of my soul and life experiences," Lopez explains.
The Latin feel in his music is one of the most important elements for Lopez. Born in Santiago, Chile, he moved to Canada in 1979 and now calls Calgary home. "My roots are here but all that I am I owe to my mother country; she has made me who I am today".
This global fusion has made Lopez a leader among world-class guitarists. Performing to sold-out audiences across North America and mesmerizing music lovers from across the globe, he was named Instrumentalist of the Year by the Prairie Music Awards.
In 1997 Lopez began playing with folkie James Keelaghan in a group known as The Compadres.. They recorded a self-titled album and toured Australia. Oscar's last album Tri-fecta was released in 2009, on this album collaborated with Pavlo and Rik Emmett (lead guitarist from rock group, Triumph).
Oscar Lopez paused to reflect on his astonishing career. He has dazzled the ears and touched the hearts of many with his stunning technique. His soulful energy and fiery intensity will dazzle the audience lucky enough to see him.
Visit OscarLopez.com - Listen and watch on YouTube
Oscar Lopez
Saturday September 27th
Bragg Creek Community Centre
Doors 7pm Concert 8pm


Adults $29 & $40*
Seniors $27 & $38*
Youth $5 Rush & $30*
---
The Bergmann Piano Duo – Elizabeth and Marcel Bergmann
Saturday 25th October 2014
Bragg Creek Community Centre
Doors 7pm Concert 8pm

"perfect harmony"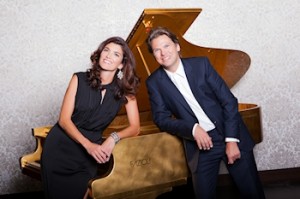 Acclaimed as "one of the brightest stars in the elite world of piano duos," the Bergmann Piano Duo have inspired audiences for more than two decades. Their performances – in recital and with orchestra – have taken them to concert halls throughout North America and Europe. The duo has appeared at International festivals including MusicFest Vancouver, the celebrated Gilmore International Keyboard Festival, Tage für Neue Musik Darmstadt, Braunschweiger Kammermusik Podium, EXPO 2000 in Hannover, and most recently recitals in Munich and at the Concertgebouw in Amsterdam (2013). They have made recordings on the CordAria, Arktos, Koch International Classics, Naxos and Brilliant Classics labels and have been frequently broadcast on CBC, National Public Radio, and for radio stations in Germany.
The Bergmann Piano Duo was awarded first prize at the International Chamber Music Competition in Caltanissetta, Italy, and were laureates of the 4th Murray Dranoff International Two Piano Competition. Committed to supporting the development of new repertoire, the duo has commissioned and premiered several works by Canadian composers. Their extensive repertoire ranges from the Baroque to the Contemporary.
The Bergmann Duo appear by arrangement of SLAGZ Tour Management
(Sylvie Lange and George Zukerman) as part of an extensive Western Canada tour project.
Concert Sponsor – Matching Grand Pianos generously supplied by Michael Lipnicki Fine Pianos, Calgary, AB, courtesy of Michael Lipnicki – Owner. www.michaellipnicki.com
"Calgary's expert in piano sales, tuning, conditioning, repairing and appraisals"
Instrument transport by RPM Piano Moving, Calgary, AB, courtesy of Kyle Brown – Owner. www.rpmpianomoving.com "Dependable Moving, Unparalleled Service"
Visit www.bergmannduo.com - Listen and watch on YouTube
The Bergmann Duo
Saturday 25th October 2014
Bragg Creek Community Centre
Doors 7pm Concert 8pm


Regular Single Ticket Prices
Adults $29
Seniors $27
Youth $5 Rush
---
Elizabeth Shepherd
Saturday 22nd November 2014
Bragg Creek Community Centre
Doors 7pm Concert 8pm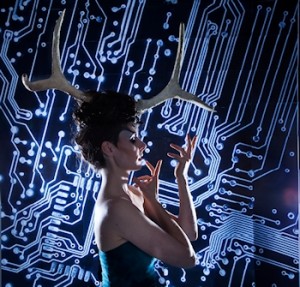 Vocalist/pianist Elizabeth Shepherd arrived on the international scene in 2006 when her debut album Start To Move was voted one of the top jazz albums of the year by BBC Radio Worldwide. Since then, the globetrotting soul-jazz innovator has established herself as one of the most alluring and imaginative artists on the scene today.
Elizabeth has released five widely acclaimed records and toured extensively in North America, Europe, Japan and Mexico. She has sold out legendary clubs from Tokyo to Detroit, played festivals like Montreal and North Sea Jazz Festivals.
Elizabeth is the only jazz vocalist to ever have been long listed for the Polaris Prize – Canada's most prestigious music prize. The three-time JUNO nominee has been hailed as "a jazz virtuoso blessed with a pop sensibility", and praised for her arrestingly original writing and distinctive musical voice.
On her upcoming fifth album The Signal (to be released September 2014) Shepherd teams up with guitar genius and Herbie Hancock band member Lionel Loueke as she continues to create jazz for a new generation.
Elizabeth is reinventing the jazz song and bringing jazz influenced music to a younger audience. You'll find her recordings in the jazz section at your local music shop, but Elizabeth's blend of funk, soul, blues and samba reaches far beyond just the jazz vernacular, she appeals to all music lovers.
Visit ElizabethShepherd.com - Listen and watch on YouTube
Elizabeth Shepherd
22nd November 2014
Bragg Creek Community Centre
Doors 7pm Concert 8pm


Regular Single Ticket Prices
Adults $29
Seniors $27
Youth $5 Rush
---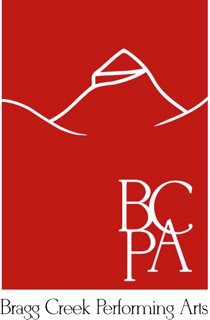 Many people tell us that we bring in some good bands. This new season is no exception as we continue in that tradition, so it is with great excitement and anticipation that we announce our Fall line-up!
Once again we are offering a 15% loyalty discount on the purchase of all concerts. "Buy Tickets for this Season's Package". If you prefer to purchase by phone, please call 403 949 4114. Pay using the credit card of your choice and arrange to pick up your ticket package at the first concert.
We hope that you will join us for Bragg Creek Performing Arts exciting 34 Season. Thank you for supporting live, original music.


Adults $29 – Seniors $27 – Youth (6-17) $5 Rush