Fall Season 2017
We are disappointed to have to inform you that Calum Graham has pulled out of this show as he has over committed himself.
For your enjoyment on October 14th we will be presenting Master guitarist Don Ross in a solo show. We apologize for any inconvenience.
Don Ross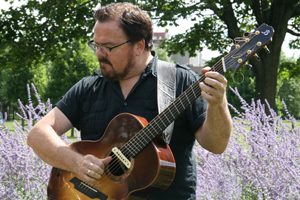 Don grew up in a musical household; his father is an operatically trained singer with a fondness for playing the bagpipes. At an early age he taught himself basic piano skills before taking up the guitar. Don eventually studied Music at Toronto's York University where he focused on composition, electronic music, and sound recording. In 1988, Don became the first Canadian to win the U.S. National Fingerpick Guitar Championship. He won again in 1996, still the only two-time winner of the competition.
Don tours throughout the world and has collaborated with a number of artists in addition to composing scores for television, radio and film, along with producing and recording engineering for a variety of other musicians. Besides acoustic guitar Don plays; electric guitar, slide dobro and lapsteel guitar, harp guitar, piano, keyboards, bass guitar, drums and he sings too! He has many albums to his name (to numerous to mention) the latest of which is "A Million Brazilians".
Don leaves Bragg Creek to tour Korea and Japan. We are fortunate to be able to spend what will be an unforgettable evening with this Master, one of the world's foremost fingerstyle guitar players.
14 October 2017
Bragg Creek Community Centre
23 White Ave,
Bragg Creek. AB
Doors 7pm Concert 8pm
Tickets; $25.00 Seniors $23.00

---
MonkeyJunk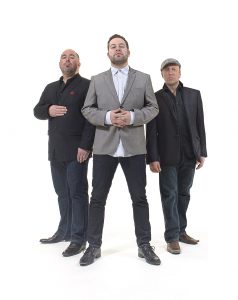 The 2008 birth of the Ottawa-based band MonkeyJunk came along just when music fans needed them the most, bringing an accessible and refreshing blend of swamp-rock roots and blues to the table. They haven't looked back since. MonkeyJunk have won a collective 20 Maple Blues Awards, two Canadian Independent Music Awards, a Blues Music Award (USA), and a JUNO Award.
As one of the hardest working bands on the scene today, these Canadian ambassadors of blues/rock are constantly working to up their game in terms of songwriting and musicianship. "Are we a blues band? Yes, but we're also a soul band, a funk band, a rock band. It depends on the day," says lead singer Steve Marriner, pointing to their ability to entertain a theatre audience in Alberta, or a slam-dancing student crowd packed into a greasy rock bar in Poland.
What makes MonkeyJunk's music so interesting and different is the substitution of a baritone guitar in place of a normal four-string bass. Marriner rolls out a bottom end while at the same time churning out harmonic riffs that act as counterparts for the main guitar lines. By the way the name MonkeyJunk comes from bluesman Son House, who once said "I'm talking about the blues, I ain't talking 'bout no MonkeyJunk."
Signed to the respected Canadian roots label, Stony Plain Records, they tour steadily and have a devoted following of fans who call themselves MonkeyJunkies. The band maintains a busy touring schedule, touring across Canada, into the United States and across Europe as well.
MonkeyJunk knows how to have a good time, and they'll ensure that the Bragg Creek audience does too!
https://www.youtube.com/watch?v=XLhqeOit5c4
25 November 2017
Bragg Creek Community Centre
23 White Ave,
Bragg Creek. AB
Doors 7pm Concert 8pm
Tickets $30.00 Seniors $28.00

---
Discounted Season tickets with the purchase of both concerts. Adult Season $47.73 Senior Season $44.33