INDULGENCE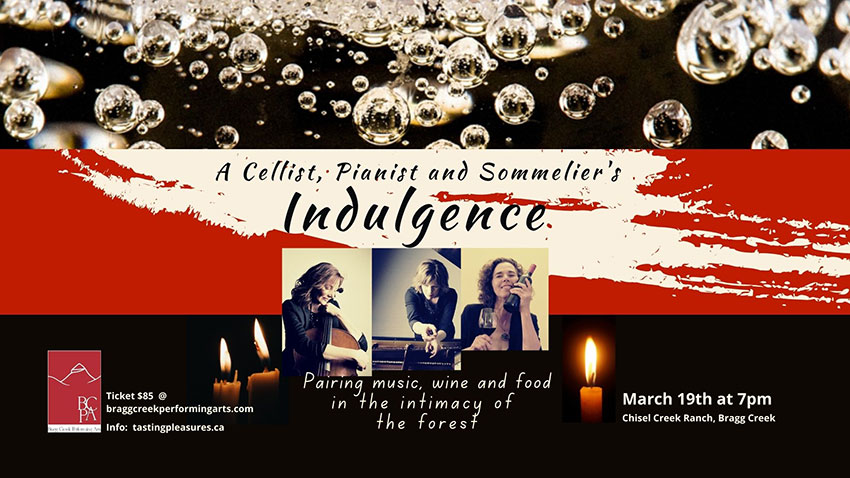 Pairing music, wine and food in the intimacy of the forest
Saturday March 19, 7PM
Chisel Creek Ranch
Bragg Creek
Tickets: $85 per person
Join celebrated classical musicians, Beth Root Sandvoss (cello), Susanne Ruberg-Gordon (piano) and sommelier, Renée Delorme in an intimate evening of music, fine wine, food and pure indulgence.
Designed to awaken all of your senses, the evening is a celebration of the eminence of Spring and renewed life.
The event will take place at Chisel Creek Ranch, nestled in the forest at the edge of the Rocky Mountains. It offers rustic charm, and the warm setting of candlelit tables for two and a limited number of small 'bubbles' for four or six guests.
Allow yourself to forget the worries of the world and Indulge in the unique and mysterious!
To find out more about the artists:
Beth Root Sandvoss – cello
Susanne Ruberg-Gordon – piano
www.landsendensemble.ca
Renée Delorme – Sommelier
www.tastingpleasures.ca
Cancelation policy
Should the event be cancelled due to Covid restrictions we will either postpone the event or reimburse the tickets less costs incurred to date.
Special requests and dietary restrictions
Please call 403-472-1396
We have a limited number of tables for 4 or 6 available. Please reserve before buying your tickets.
The proposed menu is specifically paired with the wines and caters to a wide audience. We have limited capacity to meet all food restrictions however we will do our best to accommodate. Please call us to discuss.
Directions to Chisel Creek Ranch will be emailed to you upon the purchase of the tickets.