Port Cities – Nov 24 2018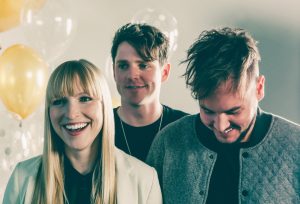 Port Cities has been hard at work bringing their music to the masses. They've continued to explore and evolve their ambitious pop sound, melding diverse musical backgrounds to create an alchemy that's part art, part songwriting science, and all magic. Hear Breagh MacKinnon's smoky, jazz-indebted delivery, Dylan Guthro's simmering and soulful R&B swagger, and Carleton Stone's razor-sharp, romantic rock 'n' roll. This Canadian three piece from Nova Scotia who recorded in Nashville manage to blend elements of both locations into their sound. The band members reckon a port city is where cultures and histories collide and goods and ideas are imported. Port Cities; music seems to be very much a melting pot of ideas. But their success is largely built on a simple but timeless approach: a good song is a good song is a good song.
Adult = $30.00
Senior = $28.00
15% Season Discount (2 concerts)
Adult = $51.98
Senior = $48.58

---

Why not make an evening of it! Rani's Rasoi serves a delicious East Indian buffet at the Powderhorn Saloon once a month. This month's event coincides with the Port Cities concert, so for a great start to your evening, book a pre-concert dinner. This has to be the tastiest fast food in town!
The buffet will be ready at 6, so you can eat and still be in good time for the concert at 8pm.
Spots must be reserved in advance. Contact the Powderhorn (403 949-3946) to book and mention that you are attending the concert.

---
Season Discount of 15% applies to concerts marked with *
Adult season (3 concerts) $88.16
Senior season (3 concerts) $83.06